Japanese Premier Stock Indexes
Nikkei Indexes
Nikkei 225 and Nikkei Indexes
Overview
The Nikkei 225 has been the benchmark for the Japanese economy for over 60 years.
First calculated by Nikkei in 1950 and calculated retroactively since 1949, the Nikkei 225 index has become the symbol of Japan's economy. The growth in popularity of Nikkei 225 benchmark products has meant that it is vital for investors to obtain high quality index data.
The Nikkei 225 is the most widely followed index of the Japanese stock markets.
Comprehensive source of Nikkei Indices data for benchmarking and tracking
Identical data used by Nikkei to calculate the index – most accurate data source of Nikkei index information
Available via Markit, Nikkei's official 3rd party vendor
Nikkei Indexes
& NEEDS as data provider
In addition to the index services, NEEDS also provides detailed data on stock market technical such as moving averages, P/E and P/B ratios. Transaction statistics include information on advance and declining stock, volume of stocks traded and value.
Nikkei 225, 300, 500, All Share Index Data
Stock Market Indicators
Nikkei Bond Index
Nikkei JGB Index
Basic Data for TOPIX calculation
Data Access Options
---
The data are supplied via NEEDS or via Nikkei's channelship partners, such as Factset, RIMES, Blackrock, IHSMarkit, etc.
Nikkei 225 Index Calculation
The index is different to market capitalization indices such as the S&P 500 or the FTSE100, which take into account the price and number of outstanding shares, so that the index value is affected more by market capitalization movements from larger companies.
Cash weighted indices such as the Nikkei 225 or the Dow Jones Average take just the share price and its predetermined par value. The par value* is used as a base for the shares, which for most stocks in the Nikkei 225 is 50 yen; stocks with a different par value have their share price converted to a 50 yen par value base.
A divisor is then used to ensure continuity in the index; events such as stock splits, dividends and changes in constituents do not distort the index.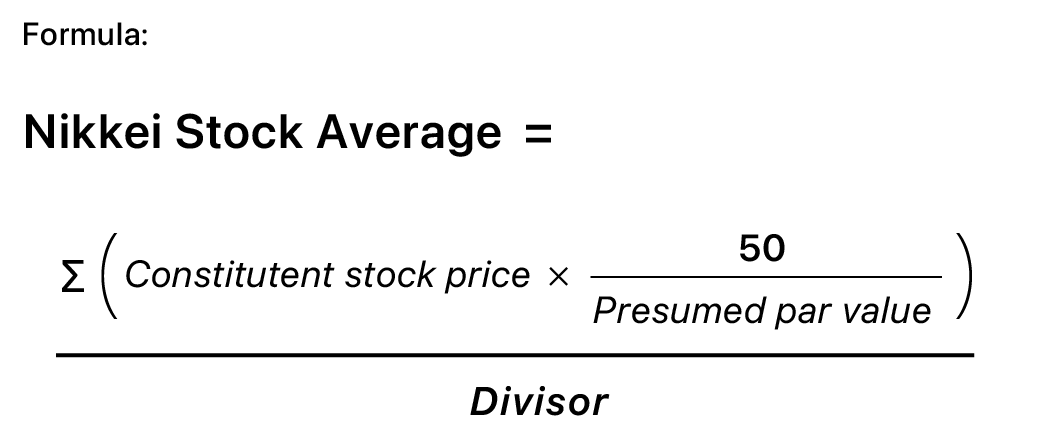 * Due to the revision of Commercial Law in Oct. 2001, "Par Value" system was abolished. For this reason Nikkei uses "presumed par value" which succeeds the ex-par value and adjust the constituent prices to the presumed par value of 50 yen base.